Fairbanks-Valdez Trail
by Betsy Bear
Introduction
In preparation for my art exhibit titled "A Century on the Old Valdez Trail," which will take place February - April 2007 in Valdez, I have been researching this historic trail connecting my home town of Fairbanks with the Alaskan port city of Valdez. Below are some background information and links I've found related to the old and new road, its people, landmarks, and natural setting.
During the summer months I anticipate traveling the road several times with artists Hana Esop and Dawn Crass, my partners in the exhibit, in order to do some plein air painting along the route. I hope to have an online journal of my sketches and adventures as we visit old roadhouses, river crossings, homestead cabins, and present day communities along the way.

Historical Overview of the Trail

A present day sign along the old trail near Piledriver Slough about 25 miles south of Fairbanks. photo by Betsy Bear
The first foot trails along the corridor between Valdez and areas to the north were used by local Alaska Native groups prior to contact, and subsequently by the European and American explorers who came to the area in the 1700 and 1800s to trade in furs. These foot trails were gradually developed to accomodate miners with dog sleds traveling to the Klondike through Keystone Canyon during the gold rush of the late 1800s.
In 1899 the US Army widened about 40 miles of the trail to allow stampeders easier passage. The military continued to improve the trail with the building of the telegraph line connecting Valdez to Ft. Egbert at Eagle. However, the Valdez to Eagle route was diverted due to the discovery of gold in Fairbanks in 1902 and the decline of the Klondike gold fields. The Washington-Alaska Military Cable and Telegraph System (WAMCATS) and road were then directed towards Fairbanks along with the next wave of stampeders.
The trip to the Interior by sled or wagon took many days and was a rugged journey for hardy travelers only. With the advent of a more populated Interior and more travelers on the Valdez Trail, roadhouses became vitally important. Positioned about 40 miles apart, these roadhouses provided much needed refuge from the weather, supplies, and comfort for weary travelers traveling in open sleds or wagons. Many of these stops continued to operate for many years in the same buildings, and one or two or the original cabins are still in use today.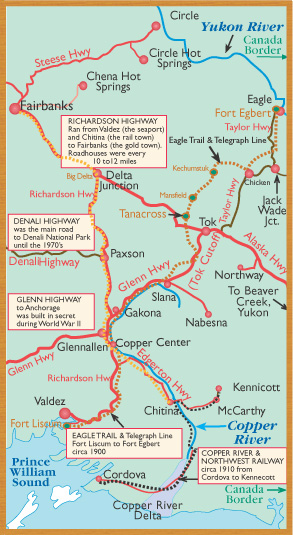 Map of Old Valdez Trail route
map courtesy of Bearfoot Guides
The winter sled trail to Fairbanks was completed in 1907, and the summer wagon trail in 1910. These improvements were aided by the 1905 Nelson Act, which created the Alaska Road Commission (ARC) and appointed Maj. Wilds Preston Richardson (1861-1929) to supervise construction of 2,216 miles of trails, 902 miles of wagon roads, and 577 miles of sled roads in Alaska. The Valdez Trail was further improved under Richardson's tenure, and by 1914 the first motorized car traveled over the trail to Fairbanks. The new 360 mile highway was named the Richardson Highway in honor of Maj. Richardson.
An advertisement in a September 1940 issue of The Valdez Miner hoped to encourage tourism in Valdez by emphasizing the beauty of excursions on the Richardson Highway:
The Richardson Highway . . . traverses the famous Keystone Canyon, 13 miles from Valdez, whose grandeur and scenic beauty are rarely excelled anywhere in the world. . . . Nor are the beauties of this route to the Interior confined to Keystone Canyon. Climbing the easy grades beyond to the summit of Thompson Pass, there is unfolded to the view a vast panorama of jagged, snow clad peaks interspersed with narrow valleys clothed with almost tropical verdure. . . . Mountain and glacier, plain and forest, rippling brooks and mighty rivers, some as clear and sparkling as the diamond, others gray or brown with the silt which the mighty glaciers at their heads have ground from their rocky beds. Verily, no trip in all Alaska, nor in all the world offers more to the tourist than this trip from Valdez to Fairbanks over the Richardson Highway (TVM, 9/6/40). (taken from A History of Prince William Sound Alaska, Revised Edition. By Jim and Nancy Lethcoe, 1994)
World War II, the consruction of the Alcan Highway, and the Trans-Alaska Pipeline all played an important part in the more recent improvements to the road. The oil pipeline, which parallels the Richardson Highway, is of vital economic importance to the State of Alaska as a source of jobs and revenue.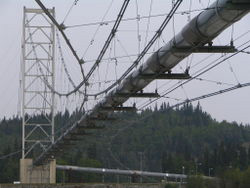 The Trans-Alaska Pipeline crossing the Tanana River near the Richardson Hwy about 80 miles south of Fairbanks.
In spite of the great distances, harsh climate, and rugged landscape the road has, with great effort, evolved into a modern, paved two-lane highway. In addition to Fairbanks, the small communities of Copper Center, Glenallen, and Delta Junction have shared in the road's rich history. The old roadbed is now referred to as The Fairbanks-Valdez or Valdez-Fairbanks Trail, or simply, The Old Valdez Trail, and continues to provide a vital link in the State's economy and connect distant neighbors in a big land.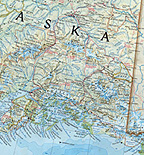 physical map of Richardson Hwy

road map of present day Richardson Hwy
---
1579 - Sir Francis Drake's Secret Voyage to Northwest America brought him to Alaska's southeast
1733 - Bering's second expedition, with George Wilhelm Steller aboard, the first naturalist to visit Alaska.
1743 - Concentrated hunting of sea otter by Russia begins.
1799 - Alexander Baranov establishes Russian post known today as Old Sitka
1867 - U.S. purchases Alaska from Russia; Pribilof Islands placed under jurisdiction of Secretary of Treasury. Fur seal population, stabilized under Russian rule, declines rapidly.
1874 - George Halt said to be the first white man to cross the Chilkoot Pass in search for gold.
1881 - Parris Lode claim staked and by 1885 Treadwell Mine is the most prominent mine in Alaska.

1897 - 1900 - Klondike gold rush. It is estimated that Alaska had fewer than 10 miles of roads in the entire Territory in the 1890s.

The Richardson Hwy is the oldest highway in Alaska

1900 - Civil Code for Alaska divides state into three judicial districts, with judges in Sitka, Eagle, and St. Michael; capital moved to Juneau. White Pass railroad completed. U.S. Congress passes act to establish Washington-Cable (WAMCATS) that later becomes the Alaska Communications System (ACS).
1902 - Felix Pedro (Felice Pedroni) discovers gold in Alaskans interior on July 22.
1903 - E.T. Barnette and local miners name their settlement Fairbanks and the city is incorporated on November President Theodore Roosevelt establishes Tongass National Forest.
1904 - Last great Tlingit potlatch held in Sitka. Submarine cables laid from Seattle to Sitka, and from Sitka to Valdez, linking Alaska to the "outside".
1905 - Tanana railroad built; telegraph links Fairbanks and Valdez; Alaska Road Commission established under Army jurisdiction.
1907 - Gold discovered at Ruby; Richardson trail established; Fire devastates Fairbanks
The Alaska Highway was originally built as a military supply road during World War II.
The discovery of gold in the Yukon began a gold rush in 1898. Later gold was discovered at Nome and Fairbanks.
1913 - First Alaska Territorial Legislature convenes. First law passed grants women voting rights.
In 1915 the record high temperature in Alaska was 100 degrees Fahrenheit at Fort Yukon; the record low temperature was -80 degrees Fahrenheit at Prospect Creek Camp in 1971.
1933 - Tolls were temporarily levied on commercial vehicles using the Richardson Hwy to encourage shipping by railroad.
The deepest single snowfall ever recorded in Alaska: 62 inches, Thompson Pass, Dec. 7, 1955.
The 800-mile Trans-Alaska Pipeline has transported over 13 billion barrels of oil from the North Slope to the port of Valdez in Prince William Sound since its completion on May 31, 1977. Oil moves at a rate of 5.5 miles per hour and takes under six days to travel to tankers in the port of Valdez.
Alaska is home to 80 percent of all the active volcanoes in the U.S.
The Trans-Alaska Pipeline moves up to 88,000 barrels of oil per hour on its 800 mile journey to Valdez.
1989 - The Exxon Valdez, an oil tanker carrying 53 million gallons of North Slope crude grounds on Bligh Reef spilling 11 million gallons into Prince William Sound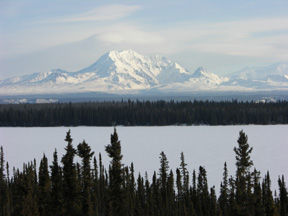 Mt. Sandford in St. Elias National Park as seen from the Richardson Hwy
---

Glossary of Terms and Acroynms
WAMCATS: Washington/Alaska Military Cable and Telegraph System
TAPS: Trans-Alaska Pipeline System
breakup: The end of an Alaskan winter, when the ice that has frozen the major rivers thaws.
bush: The parts of Alaska accessible only by boat or aircraft.
bush pilots: Pilots of the small planes who provide transportation to bush communities and isolated destinations.
cheechako: A newcomer to Alaska.
Eskimo ice cream: Traditionally made of whipped berries, seal oil, and snow.
ice fog: A thick winter fog made of suspended ice particles that leaves the trees coated with ice crystals.
mukluks: Eskimo moccasins.
outside: Anywhere but Alaska.
permafrost: Soil which is permanently frozen.
quiviut: The warm underwool of the muskox used for knitting.
sourdough: An Alaskan old timer, named after the sourdough starter used for leavening bread in the frontier; also, Alaskan who is sour on Alaska, but without enough dough to leave.
---

Links to More Information
1964 Prince William Sound Earthquake and Tsunami
A History of the Valdez Trail by Geoffrey Bleakley, St. Elias Park Historian
Alaska's Richardson Highway by Robert King, BLM Alaska Frontiers (PDF file)
Article by Judy Ferguson about truck drivers on the Richardson Hwy in 1942
Big Delta State Historical Park
Black Rapids Roadhouse and galloping glaciers
Copper Center /visitor information
Eagle, Alaska / Historic Eagle
Fairbanks - visitor information / Arctic cam / map / attractions / University of Alaska Museum / Aurora web cam / History of Fairbanks
Gold Rush History for Valdez Trail area (Bearfoot Travel Guide)
Historic 1899 Trans-Alaska Military Trail and Wagon Road by Valdez Trail Assoc.
Keystone Canyon and The Goat Trail, Valdez
Prince William Sound Marine Park and Natural History
Webster's Historical Notes on Rika's
Salcha - Community profile / Salcha Museum / Salcha River State Recreational Site
Thompson Pass - photos / NOAA weather / more photos
Trail related history books available at Prince William Sound Books
Trans-Alaska Pipeline and other pipelines
Valdez - Detailed Profile of the area/demographics/climate/images/real estate/more
Valdez Visitor & Convention Center
Valdez City Museum and Historical Archives
Webshots - Images of Richardson Hwy and Valdez, Alaska
Wikipedia - Richardson Hwy and related communities
Worthington Glacier - photos / State Recreation site
Wrangell Saint Elias National Park