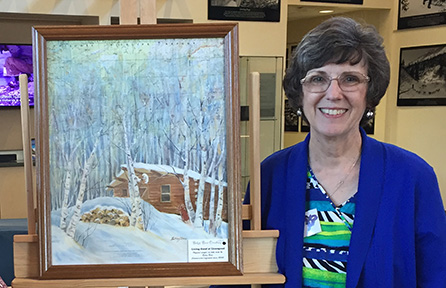 I have always loved watercolor, and started painting seriously in 2001 after retiring from 25 years of teaching public school in the Fairbanks area. Studying with many talented local and national instructors has proven to be a productive and inspiring second career in art. In addition to growing and developing my painting skills, I have learned a great deal about framing, photography, printing, and marketing. Venues include local and statewide art shows, bazaars, gift shops, galleries, and on line via my web site at betsybearcreations.com.
Born in southern California, I spent most of my early childhood in Morocco and Europe before moving to Alaska in 1966. Most of the year I live in North Pole, but summers are usually spent at our remote beachfront cabin at Excursion Inlet near Glacier Bay in Southeast Alaska, among the beautiful mountains and fjords. Wildflowers abound in both areas and the wilderness is always just a few steps away from the door. A new winter home near Tucson, Arizona will provide opportunities for more plein air painting and a change of palette colors.
My goal is to become more creative and spontaneous as I continue to discover the magic of watercolor. "Barefoot Boys" and Trail Memories are a few of my paintings inspired by old photos and historical settings. I have expanded my painting to include ink drawing, caricatures, acrylics on topographical maps and more. I find art generates a positive energy in my life which keeps me creative and appreciating the beauty that surrounds me.